From the desk of CIO, Simon Fentham-Fletcher
With Aston Villa playing again this week there was a big chance of two potential banana skins.  Thankfully, it wasn't close to any of my fears materialising – in fact quite the opposite with Villa managing to somehow excel, beating Spurs and climbing into the top four.  
And more importantly, markets in a shortened week for the US Thanksgiving holiday, meant much reduced trading activity that can lead to exaggerated volatility, maintained their upward push.  I genuinely gave thanks that even after a good run up in performance we again managed to build on that foundation, adding another +1% in the week.
This brings year to date gains up to +9.8% to +10.9% again for comparison MSCI World index still +8% which keeps our Bloomberg ranking firmly in the top 2% of funds over the last 12 months and year to date.
A thank you to my friends at ADGM.
I was lucky to receive an invitation from my friends at ADGM to attend the Abu Dhabi F1 weekend.  I am always thrilled and amazed by the F1 show and though this year has been disappointing from a driver competition perspective, I have been impressed by first the tech and then by the absolute genius of the people moving the tech around – the drivers.
Let's hope that soon it is our stellar performance that is so consistent we get bored with the constant positives and instead have volatility and excitement only with the F1 drivers' championship.
Observations on portfolio holdings
If we look at the five largest and five smallest portfolio positions, we can see that our allocations have been good – as the contribution to gains is as one would hope.  Year to date, our largest positions are generating +18% on average and our smallest allocations are generating only 2% on average – somewhat lower gains.  Our conviction is to the largest positions – we have five times more allocated to our highest conviction positions.  This higher allocation to better performing positions means stronger performance of the portfolio.  And this demonstrates that our fund selection and asset allocation is working hard to deliver alpha.  This gives further understanding of why our Bloomberg ranking is so strong this year.
Let's revisit those earnings numbers….
A closer look at the earnings and sales of American companies for the quarter is seeing earnings, though down on the past two quarters, are still significantly better than all of last year.  Even sales numbers are surprising to the upside, albeit that metric is much closer.  So what does this tell us given that the past year every economic commentator has been saying rising rates will kill the economy and send it into a recession. 
Instead, what does the evidence of data tell us rather than the hyperbole.  The evidence shows us that rather than fall flat, US companies have learned to live with higher rates and indeed still earn more than expected.  This is the US exceptionalism that you hear me talk about.  What has surprised me is that despite all the talk of the US consumer fading,  sales numbers are still up and beating expectations… This strength is something that makes me continue to believe in "no recession, no soft landing" just growth.  This again gives me more belief in my "be surprised at how positively surprised you are" thesis.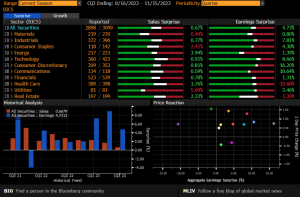 General feelings
This month has been one of the strongest that I have ever had and follows on from a couple of months where I was stunned by how markets were just not reflecting real data but driven by "feelings" and political sentiment.  The reversal back to "sanity" in the markets was so fast and strong that it shows just how impossible market timing is – my conviction has, so far, been right. The volatility on the way down, and up, is no fun on the nerves, even if it is better to be "right" over the longer term.
What other things have been going on macro wise?
It seems short and snappy went down well with my macro points so here goes again. In Europe we have the UK continuing to defy what you expect if you just read newspapers of watched the evening news
UK November GfK consumer confidence surprises up 6pts this is a partial recovery from October's 9pts fall.

Intentions: Major purchases up 10pts to -10 and savings up 4pts to +29

UK November Markit Manufacturing PMI preliminary surprises up 1.9pts to 46.7. This is the third consecutive rise and shows that things are starting to embed.

Output Index up 3.6pts to 47.9, a five-month high

Backlogs fall most since August.

Input inflation accelerates slightly from Octobers' 33m Low.
And is the German machine in need to a service?
Germany September's construction orders volume shocks down -7.4% on the month (mom) but up +13.2% on the year (yoy)

Civil engineering down -18.8% mom wow – but still +13.8% yoy
Ukraine update – Day 642 of Putin's 3-day war
I read an interesting study about the chances of winning wars if they last over 18 months.  For democracies there is only a 25% chance of winning, but for autocratic regimes that win chance is higher at 33%.  This is the statistic that Mr P is clinging on to.
The autocrat can keep throwing wave after wave of young men to die for him, whereas the democracy must navigate public opinion. We see this in this conflict and though for the first time more Russians want peace talks than want to denazify the NATO/CIA biolab builders.  
There is no victory in the sense of the initial objectives.  Though I would say to Ukrainians, there are some parts of the occupied territories that you should cede. It will accelerate all your other wants such as EU & NATO membership that will secure your independence and ultimately peace. Can I say again what I said at the beginning of this monstrosity, a functioning "Minsk Agreement" with reparations is the solution.  How the angst and death could have been avoided.
And finally…
As ever I am thankful for your trust and incredibly grateful for your patience. I re-read my January note where I believed we would deliver double digit returns but with large bouts of volatility.  The volatility has been far more extreme than even I foresaw, but if we get to the end of the year and can hopefully build higher from here then it will be a very solid year of performance given the headwinds faced.