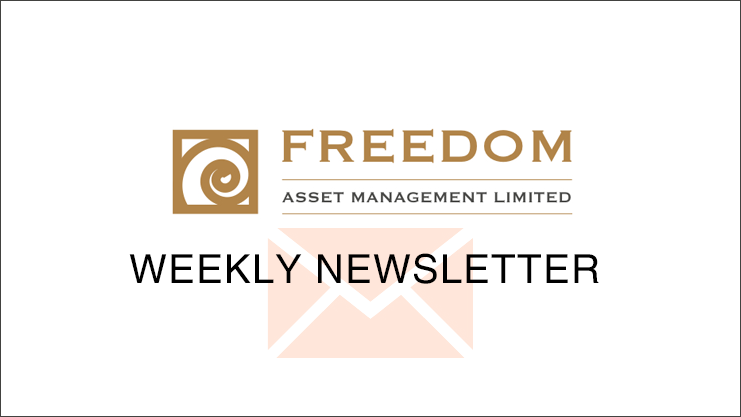 24 Feb

Freedom Calls – "End of days…nth episode" – February 24th, 2020

End of days…

I often write about how the world likes suspense and horror, rather than rational argument and reason, to show yet again that we are not walking off a cliff.  

That is not to say that I am unconcerned about CoVid 2019, but I am not being alarmist for the sake of trying to scare you. Life is too short and talking of life being too short….  Last week, I picked up my sticks and spent the past week working in Bulgaria as my children said goodbye to their great grandmother who sadly is not long for this world.  There are times when my family put me to shame, far too many if I am brutally honest.  They have so much empathy and understanding.  I should learn from them, and, indeed alongside many macro things, that is what I have resolved to do… be a better father, husband, and friend.
Back to the macro – it was bad this week and the result is a down tick in the overall "health" of the macro
But you will also notice that this is still from a position of strength.  I think it worth spending a second week looking around the world and seeing how things are now and how they might pan out.
The US is the only region which is still producing net positive news: this week 35% of its releases beat consensus and only 18% disappointed.
This is the sixth week of net positive results, and its recent signal strength has now reached the peaks seen last year and the week's data did little to alter the trend. We already knew that the residential sector has surged in response to higher employment and lower interest rates, so although the 1,567k in January's housing starts and 1,551k in building permits beat expectations, the surprise was only a modest one of quantity, not purpose.
The improvement in February's early regional manufacturing surveys was more surprising, with the Philadelphia Fed business outlook up 19.7pts to 36.7, the strongest since Feb 2017, and the Empire State manufacturing index up 8.1pts to 12.9, the strongest since May 2019. However, it is too early to conclude that these two surveys are representative of the national industrial situation.
Rather, the data which stood out was the inflation shock which showed up in January's PPI index for final demand. This rose 0.5% mom and rose 2.1% yoy, with a monthly movement which was above historic seasonal trends.  This uptick in inflation occurred despite a 0.7% mom fall in energy costs, and reflected a 0.7% mom rise in services costs.
All this tells me that the market is not looking at macro and though the supply chain fears are real, as you will see below, China seems to be coping, it may be the rest of the world that now has more to worry about.
Asia – The region's data has yet to start reporting the impact of coronavirus, which we can expect to be truly dreadful  
Even so, the news is already grim: for a third week Asia produced more shocks (27%) than surprises (9%), and although the 6wk signal is still positive, it is not going to stay that way for long. 
First, it is worth noting two China-related sets of data which are not yet showing the economic impact of the outbreak to any great extent.  China's January money and financing data did not show tremendous change: M2 growth of 8.4% yoy was generated by a monthly rise only slightly above trend.  The coronavirus outbreak will inevitably put China's financial system under great strain, but it did not show up in a system already fully loaded to cope with the somewhat similar strains of Chinese New Year.
Second, the 12.8% yoy drop in Taiwan's January export orders was certainly dramatic. But the drama did not stem principally, or indeed at all, from a collapse in demand from the mainland and Hong Kong. Orders from there fell 11.1% yoy, but they also fell 12.6% from Asean, 15.4% from Japan, 11.5% from the US and 13.8% from Europe. The weakness, in other words, was universally distributed, which suggests it reflects the universal impact of Chinese New Year rather than the quarantining of the mainland.
Coronavirus stands for a political risk in many places, but for Hong Kong's government, which squandered huge amounts of political capital during the last year, the situation is particularly tough. That vulnerability showed up in January's composite CPI, which reported the index down 1.6% mom, below what one normally expects in January, and which cut the yoy to 1.4% (vs 2.9% in December).
Europe's data continues to rock back and forth
This was a dramatically negative week (30% shocks vs 14% surprises), which was the mirror image of the previous week's positive message (33% surprises vs 7% shocks). The 6wk signal sank back below the line, having popped up for air the previous week.
February's Zew survey epitomized that volatility, with expectations for the Eurozone falling 15.2pts to 10.4 and expectations for Germany falling 18pts to 8.7. In both cases, the business/economic optimism which surprised in January's survey simply evaporated.  Even though Markit's February manufacturing PMIs for both Germany (up 2.5pts to 47.8) and the UK (up 1.9pts to 51.9) surprised, in both cases.
In addition to this factor, Europe's shocks included a number of straightforward disappointments still showing up from December's economy: Eurozone construction volume dropped 3.7% mom, mainly thanks to the 8.7% mom drop-off in Germany's construction; Italy's industrial sales fell 3% mom, with domestic sales down 2.9% and export sales down 3.1%.
This economic news cannot have gone down well in EuroDisneyLand where they are fighting over the EU budget and the fact that while they all love the EU, no one wants to pay for it.
Still Thinking About Coronavirus …
Two weeks of wall to wall coverage later what more is there to say? Let's start with the positive: if the publicly available data on infection is correct, then it looks as if the feared global pandemic is not with us.  This is made clear simply by tracking infections on a log basis, rather than a linear basis.  When viewed on a log basis, the prospect of millions of infections, and therefore hundreds of thousands of deaths, seems remote. 
The problems start with the big qualifier: 'if the publicly available data on infection is correct'.  The data I am using comes from https://www.pharmaceutical-technology.com, which has both the incentive and the industry position to get this right. It is running a timeline updated daily which tracks infections, deaths, and recoveries. I have no reason to believe they are not doing a good job. 
Nevertheless, there are two factors which might break that qualifying 'if'. 
First, to be blunt, knowingly, or ignorantly China's account might be wrong
Since China has a massive interest in damping down both international and domestic concerns about how it is handling the outbreak, its authorities may be knowingly minimising the number of infections. But one would expect any under-reporting and/or under-estimation to start right at the bottom and work its way right up to the top.
Local doctors under pressure from local politicians to secure 'victory' in the war on the virus may be deliberately misdiagnosing and misreporting 

Local city politicians under pressure from provincial politicians desperate to secure 'victory' revising down infection counts before they are passed up to provincial level.

Provincial leaders anxious to secure Beijing's approval being keen to report 'no problem here'. 

And finally, in Beijing, everyone will have the keenest incentive to assure Xi Jinping that he personally is securing

'

victory

'

. 
The problem may not be that China's leading politicians are trying to deceive. Indeed, China may be really trying to get it right. But China's system of scary incentives tilts players at all levels towards deceptive behaviour.  China is emphatically not a system which rewards whistle-blowers.  Even with the best intentions, China is unlikely to be able to gather the data cleanly. 
Second: to the extent that China has controlled the outbreak, it has done so by shutting down the economy. This cannot last.  
The draconian measures taken to put hundreds of millions in quarantine are incompatible with social and commercial life as we know it.  In some ways, the emergence of the virus over the New Year holiday period is a stroke of luck, since outside transport and restaurant sectors, economic activity is expected to grind to a halt during the holiday, and companies are well used to managing this interruption.  
Putting the country in quarantine during this period is not, then, the immediate economic challenge it would be at other periods.  But as that quarantine is extended, that piece of logistical good luck will run out. Indeed, it has run out already.   At some point, the economic costs of fighting the infection in this way will become intolerable.  That is the point at which the outbreak can be expected to find its second wind against the markets.  That is why markets are "fragile" despite strong macro.
Performance
This week we were looking at a positive week, Friday's market move put pay to that, and we recorded our first weekly loss in several weeks. The squiggly line is now.  Needless to say, this weekly loss has slightly reduced our monthly gain.  
As always, your confidence is not taken lightly.
Best regards
Simon Fentham-Fletcher
Chief Investment Officer
Freedom Asset Management