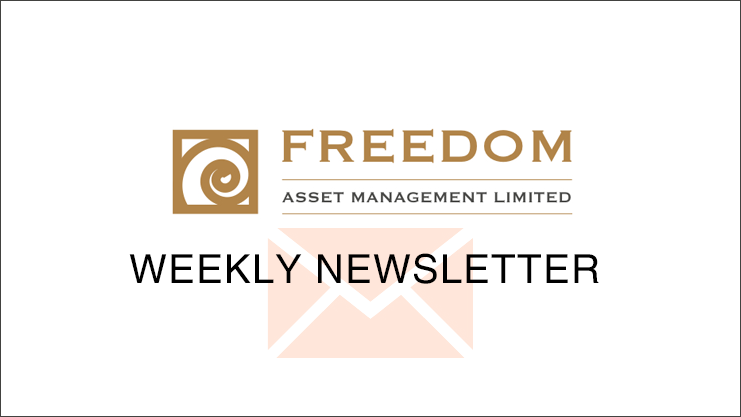 01 Jun

Freedom Calls – "Beauty, science and art will always triumph." Christo – June 1st, 2020
A maverick and one of my favourites died… Christo.  Famous for wrapping famous buildings and the 'floating piers' (above) that surrounded islands as walkways.  He showed many of us that thinking differently can be breath taking and inspire way beyond awe.
An alternative valuation metric
Last week, I lamented the way that valuation used to be easy and I suggested I had a better alternative now that those metrics are starting to look dated.
At the risk of being the man with the hammer to whom everything looks like a nail, I suggest using the Kalecki profits calculations as a useful measuring rod for entire equity markets, since these will finesse many problems.  Moreover, since Kalecki profits are calculated by looking at changes in economic and financial relationships which are both relatively public and transparent, they are at least open to potentially useful analysis.
The idea is to compare movements in Kalecki profits and movements in the stock market index, and then to compare the current situation to the historic situation.  This is how the S&P 500, Eurostoxx 50, FTSE 100 and Japan's TOPIX index levels looked relative to calculated 12m Kalecki profits at end-March 2020 (or end-2019 for Eurozone).
US Kaleckis
Profits fell 3.9% in the quarter in 1Q20, but still rose 4.3% on the year on a 12m basis.  The factors depressing profits are net investment (down 4.4% yoy) which accounted for 35% of the total, net household dissaving rose 1.2% yoy and accounted for 55.6% of the total, government dissaving rose 19.1% yoy and accounted for 19.2% of the total, and finally net exports also rose 16.7% yoy, but still stripped 9.8% from profits.
By this metric as a valuation indicator, US equities are NOT expensive and that is not looking at individual companies, but is looking at all the major drivers to the US – government, corporations, individuals, and exports/imports.  Four simple groupings, but all adding up to give a good summary of the overall economy.  This gives me added belief that my overall risk "back-on" is correct.
Data noise
Looking at data recently has been akin to staring at a Jackson Pollack wondering where the patterns are.  Difficult to say at the least and I have told you how 50%+ of macro data points are "exceptional", either good and bad.  Adding to the difficulties is that all over the world, the message from the surprises offered direct contradiction to the message of the shocks, and vice versa.  This is not balance – it is a puzzle of extremes.  Pollack would indeed be proud, I think.
So, for example, in the US, personal income jumped 10.5% in the month thanks to a 91.1% monthly (mom) jump in government social benefits, but the University of Michigan consumer sentiment shocked even as retail inventories jumped.  New home sales were surprisingly strong in April (up 0.6% monthly), but pending home sales dropped 21.8%.
As for Asia, the week's data told us that April saw  a buoyant recovery in Singapore's industrial production, but continued shocking weakness in manufacturing in South Korea (down 4.7% year on year) and Thailand (down 17.2% on the year).
In Japan alone, we learned that construction orders were better than expected, but housing starts were worse; that retail sales fared better than expected, but wholesale sales did worse.
In Europe, Germany's 5.3% mom fall in April retail sales was more modest than expected, whilst France's 20.3% mom drop in consumer spending, and Spain's 31.5% yoy drop were shocking.  In Italy, the consumer confidence index fell surprisingly modestly, but manufacturing confidence plummeted shockingly.  In the Eurozone, May's employment environment index recouped roughly half April's losses, but overall economic sentiment, and particularly services confidence, remained mired in depression.
Pick the bones out of that!
I am continued to focus on quality of our allocations and not trying to pick up "fallen angels" that have fallen like stones – often for more than good reason. They are not angels at all, just duds for the time being.  This strong affinity for quality managers has meant another strong month as is described below.
Trajectories
If individual data points are proving extreme as I have talked then one of the better methods to plot a course is trajectory.  If we look at Europe, Asia and the US plotting all the shocks and surprises at least gives us a rough course of where things are going.  Asia, as we know, hit first by CoVid-19 has emerged first into the light, Europe hit hardest in many ways is now only just trying to re-open, and the US, last hit but hit hard, is struggling with the idea of opening up.
But plotting the things that matter to me  this is clearly seen in the direction of the lines – this  gives me great confidence that even though valuation can be hard at times and individual data points frustrating by focusing on quality allocations and managers we will continue to push upwards.
The pattern appears and is obvious for all to see.
Central Banks help
Liquidity pumped into the markets since this pandemic emerged has one route – to risk assets and that does not mean fixed income, but to equities.  This is having the effect of pushing the market upwards.  This liquidity is not abating and will add to a continued push higher.
Hip update
It is not just the funds that continue to recover… after major hip resurfacing, I am like new person.  You heard me say that my daughter delighted me with "we have our real daddy back" comment, well now I am walking 10km+ in a day easily without trouble and the only pain I have is from being locked down and unable to travel to meet you all.
This is becoming my worst nightmare and trust me I cannot wait until I board a plane again.  I feel like one of those London Fund managers that stay fixed to one spot and do not get a variety of inputs into their investment process.  Zoom will work temporarily to combat that, but nothing beats having "tea" with you all and talking through war stories.
Performance – another strong month
A strong month saw all our public market funds recover strongly, the Opus Cautious Fund posted returns of +5.5% when our benchmark posted +1%.  This brings our recovery from the dark days of late March along well and we are now only -5.3% year to date.  Compare this to developed market equities which are still down -9.5% and emerging market equities which are still down -15% and more.
Believe me, I am still not happy we are down and will keep pushing hard to get positive. But what I am reminded of by my peers is the carnage that occurred and there are many funds still suffering mightily such as Invesco High Income at -33% year to date and multi asset funds such as Schroders -10% or Alliance RiskMaster -11%.
When I talk about quality then inside our portfolios, our "average" investment is top quartile with our average equity fund delivering -6.3% and our average fixed income fund +0.1% for the year, the equity side of the book much stronger than broad equity indices.  Month to date, this quality has been especially strong with our equity positions generating +7.5% on average and our fixed income +2.5% – this compares with +4% for global equities in May.  Strong absolute and out-performance as you want to see and expect from me.
Another indicator that things are moving in the right direction is the number of funds we have now in positive territory for the year.  At the end of March, this number was 0%, now we have 33% and a further 25% within 2% of being positive.  Each fund's positive movement is another step forward in us recovering better and faster than our peers.
Squiggly Line
It still is not where I want it, but the performance is keeping the right direction.
Source: Freedom Asset Management, Opus Cautious (C and S Class combined)
As always, I am grateful for your support and confidence.
Best regards
Simon Fentham-Fletcher
Chief Investment Officer
Freedom Asset Management