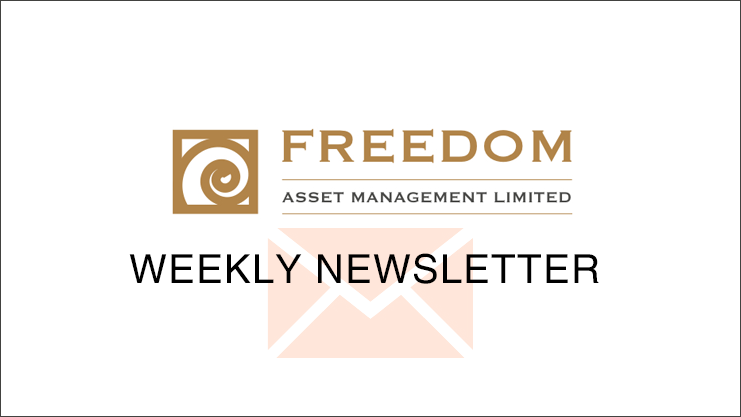 03 Aug

Freedom Calls – "Yoga for the mind…" – August 3rd, 2020

For most of my life, heaven to me has been Aigua Blava.  Many summers have been spent in this idyllic place; there is not much to do other than swim, eat seafood and meet old friends.  After lockdown, this place seems all that and so much more.  It is a place where I can really think differently.  I am encouraging my children to do the same and after the horrors of virtual online education and lockdown to let their minds free and wander.  For me, nothing quite keeps me going than the bay below. It really is …yoga for a busy mind…
… and worth being quarantined upon return for.
Performance spoiler – I will expand upon this further, but to stop you dashing to the last paragraph let me just let you know …it was a super month for performance in all my funds.
The (terminal?) decline of Hong Kong
For me, the biggest GDP numbers this week were not from the US or Europe (more on those below) but from Hong Kong and have set me thinking about this little island.
Hong Kong announced its 2Q GDP estimates, reporting a 9% year on year (yoy) fall, which was no worse than expected, and a slight moderation from the 9.1% yoy fall in 1Q.  Unfortunately, when you look at the details, there is nothing there to lighten the mood.  First, the overall headline result was rescued by two things: government consumption rose 9.6% yoy (vs 8.8% in 1Q), and net exports of goods position improved with exports down 2.1% yoy, but imports down 6.8%.  We do not have the nominal breakdown, but we already knew from the monthly data that the goods deficit shrank from HK$104bn in 1Q to $70bn in 2Q.  Both those – government spending and net exports – provided a backstop from the slump in private consumption (down 14.5% yoy in 2Q vs minus 10.65% in 1Q), and investment spending (down 20.6% in 2Q vs down 15.8% in 1Q).
But focus not on those factors, but rather on the 46.6% yoy fall in export of services. That collapse was also against a weak base of comparison – they fell 1.3% yoy in 2Q19!  In fact, this was the sixth consecutive yoy fall in services exports recorded in the quarterly GDP numbers.  The problem is this: export of services – of transport, travel, financial, legal, and business services – is what Hong Kong does. It is what Hong Kong is, and although the revenues from services exports are equivalent to just over a quarter of GDP, it is there that underpin the rest, including HK's pricing and financial structure.  Unless this collapse is reversed, and rapidly, the threat to that pricing and financial structure seems very real.  Back in 2003, at the worst of the SARS epidemic, HK's services exports fell only 16.6% yoy and quickly righted itself.  It seems unlikely this time, and not just because of Covid 19's impact, but because of China's unrestrained attack on the territory's freedom of expression.
The other thing which needs watching is HK's budget deficit, which came in at an alarming HK$64.3bn in June, as revenues dropped 33.1% yoy whilst spending was up 98.6% and way, way above trend.  The problem is that with the economy in steep contraction, it is going to be difficult to raise revenues: in the year to March revenues were equivalent to 20.9% of GDP.  Meanwhile, spending has risen to around 23.8% of GDP, I think, up from a 10yr average of 18.4%.
Either cuts will have to be made, or the deficit, which is running at around 3.8% of GDP in the 12m to June, is going to kick out dramatically.  Looking at recent history, in 2002, HK showed its biggest deficit, at 6.2% of GDP.  It could easily top that this year. This is a problem HK really does not need.
Meanwhile, with dreadful timing, Hong Kong's "second wave" of coronavirus is already here: infections jumped from stable in the 1,230's at the beginning of July to just over 3,500 today and rocketing upwards every day – and so social-distancing measures are already being tightened up, including a ban on eating out.   Hong Kong has triumphed over many problems in the past, but it can surely never have faced such a nexus of disasters all at the same time.
US numbers frightening or a relief?
The first sighting shot at 2Q US GDP estimated the economy shrank 32.9% in annualized terms in 2Q, or, to put it in purely quarter on quarter terms that the rest of the world uses, it shrank 9.5% qoq.
Because we have the full breakdown of estimates, we can and will look at that more closely. But let us start by acknowledging that that 9.5% quarterly (qoq) fall is actually a slightly better result than anything we have seen from the Eurozone, including Germany. (The flash estimate for the Eurozone's 2Q GDP came in at minus 12.1% qoq, which annualized to a fall of 40.3%!  Spain fell 18.5% qoq, France fell 13.8% qoq, Italy fell only 12.4%, and Germany fell 10.1%.) These are results which almost make the US's 2Q fall of 9.5% looks respectable.
The main contours of the US result are largely as you would expect personal consumption fell 34.6%, as locked-out services dropped 43.5% whilst goods fell only 11.3%, with durables down only a fractional 1.4%.  Fixed investment fell 29.9%, with non-residential down 27% and residential down 38.7%.  Exports dropped 64.1% and imports dropped 53.4%, and net exports actually added back 0.68pps to GDP growth. But private inventories obviously were squashed, with the inventory dump cutting off just under 4pps from growth.  Excluding inventory movements, final sales of domestic products dropped 29.3% annualized.
Within that general picture, we can begin already to see some of the logic of a 3Q rebound.
First and most obviously, that 43.5% fall in services spending – which accounted for 22.9% of the 32.9% fall – is going to rebound as lockdowns ease.
Second, the scramble to dump inventory in 2Q has left the economy looking light on inventory (see above).  Inventory-dumping stripped nearly 4pps from growth in 2Q – most likely it will be adding back sharply in 3Q.
Third, residential investment dropped 38.7% in 2Q. It looks like this was already in turnaround in June, with pending home sales up 6.3% yoy, new home sales were up 6.9% and existing home sales were up 3.5% yoy.  Meanwhile inventories of unsold properties, new and existing, were also down in yoy terms. Inventories again!  Housing starts and building permits have not yet broken through to yoy gains, but probably will in July.
And fourth, and perhaps most unexpectedly, whilst the lockdown and its impact on the labour market meant that compensation fell 24.6% in 2Q, this was more than offset by a massive jump in government subsidies and transfer payments. The result? personal disposable income jumped 42.1% annualized. That is unlikely to be repeated, with the initial Covid-related US$600 per week substitute pay checks running out at end-July.  Nevertheless, the dollar amount of personal saving in 2Q was effectively triple that in 1Q. So, there is some consumer firepower stored up if they choose to use it.
Does this all guarantee a full rebound, or that sought-after V-shaped recovery?  In the long-term no, but it does look like we should expect a very solid rebound in 3Q at least.
Performance
It was a super month with Cautious for the month up +5.5% and for the year now +4%, and Global Growth +6.7% and 5.4% for the same time periods.  Our gains have not been achieved by being overly long tech as many people have done, but by being smarter than this.  Our biggest winners are in fact from US microcap (+24%) and Asia (+18%) (not HK I will add), yes our tech has done well (+17%), but it is a contributor to a team performance rather than a solo act.  I prefer it this way as it will ensure more robust performance when things in tech pull back.
If broad equity markets were up c+5% in July our average equity fund posted gains of +8.6% and while our Fixed income "only" posted gains of 2% when the broad fixed income gave +3%, it is because we eschew government debt, which we think a rigged market right now.
At the beginning of the year, I forecast a 3,700 S&P and at the end of March that was looking like pure fiction, however, the recovery back has me more sure than ever that 3,750 is the year end level.  Let me hope this prediction does not look too punchy in short order!
Squiggly Line – making my daughter smile
OPUS Cautious Fund (C & S Class combined)
OPUS Global Growth Fund
I am as ever thankful for your support and confidence.  I cannot wait for the world to properly open so that I can visit you all again in person. I am enjoying my yoga for the mind, but nothing beats the jousting of real-life meetings and discussions.
Best regards
Simon Fentham-Fletcher
Chief Investment Officer
Freedom Asset Management