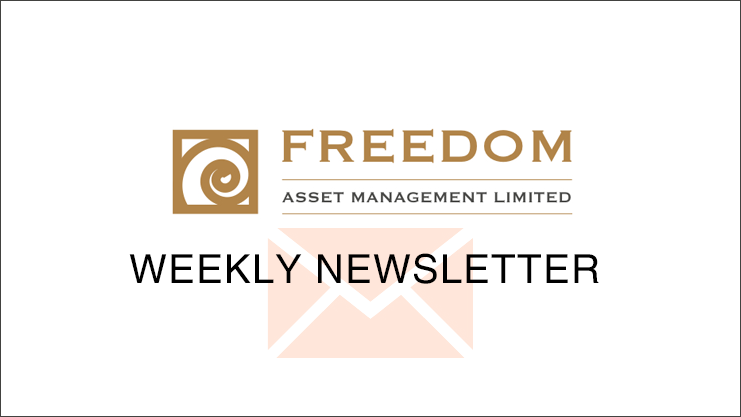 17 Jan

Freedom Calls – "In pain…." – January 17th, 2022

Last week, I wrote "Nature does not hurry, yet everything is accomplished."  Which I saw, and loved the idea of.

Why is it that humans want everything now?  I am being specific to myself here.

Not happy at limping home in my marathon made me want to get back training.  The problem is I want to be perfect now, and today after my first training session, I feel stiff to say the least.  I am in pain and so to combat that the next training session is tomorrow.  Hopefully soon every part of me will ache and so I will not be able to differentiate what hurts and what does not!

 
Performance spoiler
Last week I also wrote "and 5-10% swings will happen 2-3 time this year" I did not expect to be right so soon.  The year has seen a sharp drawdown to begin 2022 and the funds have declined with that.  I will say that I have taken the opportunity to add to my investments in the funds and subscribed another 15% of my cost base.
In the funds we had taken some investment gains before the fund losses of around -4.5% in 2022, and with it also taken cash holdings back up to c10%.  At the end of last week, I used some of that cash (c5%) to go back into the market.
Market volatility allows us to make these investments at a discounted price and hopefully to profit longer term.
Endemic
The scientists may not have called in just yet, but I am.  CoVid in the UK is now essentially endemic meaning it exists in the population, and we just have to get on with things.  An estimated 95% of the population has immunity levels through vaccination or through having had CoVid.  The remaining 5% think Elvis is alive and well living on the moon, and they will not be persuaded to stop taking medical advice from a Facebook friend or QAnon Shaman.  Time to put fear aside and get back to things.
NoVax
I travel as much as I can in difficult CoVid times.  I do not ever break a country's CoVid laws, lie on immigration documents or break isolation periods.  I just think that abiding by rules is what makes things work.  Why is there any sympathy for this tennis player at all? He lied to try and gain entry to a place that had specific rules at a time when many an Australian would have loved to be allowed back to see friends and family.  Too many sports people really do think they are different – and they often are, being able to hit or kick a ball well.  But like the rest of us, they are mortal and despite claims to the contrary, they are unlikely to be able to make bad water good, which is just one of the many Jesus analogies his supporters made this week.  He hits a ball people!  Now obviously, if he were a Villa player then I would have a different opinion(!).  The point is he lied and broke laws.
Global Macro
Some strategists have made Europe a top call for 2022.  Now I have a feeling that these calls are based entirely on recent data and are ignoring the escalating rates of Omicron.  Europe is 4-6 weeks behind the UK and so will have substantial work absence just as the UK recently experienced.  This will dent Q1 macro data and then we will see those strategists back-tracking quickly.  Especially when you read the last paragraph titled "lies…"
So, what was the good news?
Eurozone Nov industrial production up 2.3% on the month (mom), despite Germany down -0.2% and France down -0.5%. That seems old …did Malta and Latvia suddenly become global production centres?
Eurozone Jan Sentix investor confidence up 1.4pts to 14.9, with current conditions up 3pts to 16.3. Probably because people saw point one

UK Nov construction output up +3.5% mom, with new work up +5.8%
Lies & damned lies and then there is Eurostat!
Eurozone's November +2.3% mom rise in industrial production (above) came on the back of an unusual and unexplained restatement of the index.  Around the turn of the year, you can expect index series to get rebased every so often, using new weightings of items, sectors, or countries.  But if the index is rebased from, say, 2015 to 2020 weightings, you get told.  There was no such explanation for what happened to the Eurozone's industrial production series this month. Rather, what we received from Eurostat was a completely unexplained, and sharply material, revision of a series which ought to be central to our understanding of what is going on in the Eurozone. 
For the record, it showed November's output up 2.3% mom, which was very much better than one could expect from what we already knew (Germany had already reported production down -0.2% and France down larger). What appears to have swung it was Ireland, where output was reported up 37.3% mom, but down 30.4% yoy.  Might it be possible that the EU bean counters were all invited to Herr Juncker's Christmas claret tasting party?
I fear that the EU might be up to a bit of marketing spin!
Things you cannot spin, and excuse me for not updating this chart which went even more vertical this week, it seems that the travel bans on those annoying Anglo Saxons worked a treat.
The basket case that is US politics continues unabated
Untrammelled political rancour demands that the monthly labour market surveys data are interpreted in the US media through the distorting lens of political convenience.  So, when December's non-farm payrolls rose only 199k, or half of the 400k consensus expected, it is accepted as a "big miss", which moderates the likely trajectory of Fed tightening and so tumbles the US dollar.  Lost in this narrative are two possibilities:
First, that the 'big miss' may be another of this series' quite regular instances of 'rogue' results.  After all, other contemporary labour market signals suggest continued hiring strength: the Dec ADP private payrolls count rose 807k, the Dec household survey of employment reported a rise of 651k, cutting the unemployment rate by 0.3% to just 3.9%; and weekly initial and continuing jobless claims are maintained at historically extremely low levels.  This 'rogue datapoint' explanation has some plausibility, but is less interesting than the second possibility.
Second, that this sort of non-farm payrolls 'disappointment' is what must be expected if and when the US approaches full employment. As the unemployment rate fell to 3.9%, which is the lowest since Feb 2020, below the post-1990 average of 5.9%. This suggests that the US is approaching what has historically been its lowest rates of unemployment.
Careful now, that is almost at the level Trump had at the end of his Presidency, do we think the orange one will commend Biden on his skilful approach at jobs reduction?  Neither do I, then again, I am not sure Biden's economic policies have had too much to do with it either.  It is obviously all Trump's demanding work while living the big life in Florida.
Global Macro in one chart
Performance
The month to date is down some 5% for the funds on the back of tech, small and micro cap and even fixed income all being down.  Our investments seem to have been particularly beaten up, but this is, in my opinion, a temporary knee jerk reaction to Omicron and potential interest rate rises affecting tech – when tech has historically always been a great performer with rising rates as most tech companies have less debt than "traditional" industries.
As ever, I thank you for your trust and confidence.